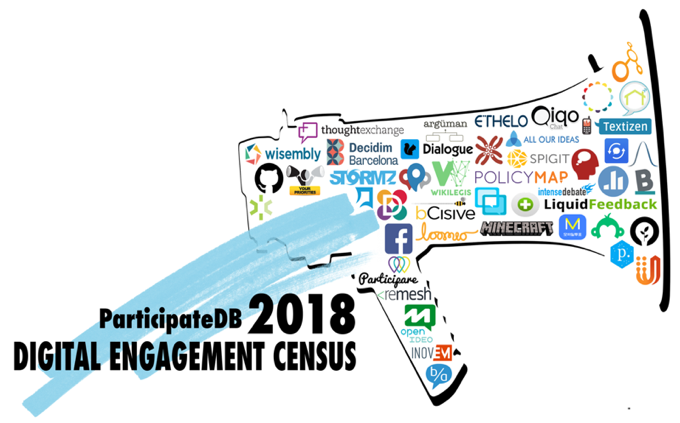 Update 02/20: The survey has been extended through Monday, February 26!
Today, after extensive prep work since we first floated the idea back in 2016, we are excited to launch the ParticipateDB 2018 Digital Engagement Census, a global practitioner survey aimed at improving our understanding of how technology is shaping community engagement today.
Over the next ten days, we hope to hear from people working in community engagement and public participation in places all around the world to answer two basic questions:
Which digital engagement tools or services have you used in your work lately?
What were your experiences and lessons learned?
Respondents who leave us their contact information will:
be among first to get their hands on the interim report (to be issued later this month),
receive an invitation to our exclusive follow-up event, and
receive an electronic copy of the final report free of charge (to be issued later in March).
We are exceptionally pleased to be partnering with a group of renowned international organizations and practitioner networks in this field. This project wouldn't be possible without their support and guidance. Thank you!
Please head to the project page for more details. When you get a chance, please take a few minutes to complete the online survey and share it with your colleagues near and far: ParticipateDB 2018 Digital Engagement Census